Young Social Innovator & Research Scientist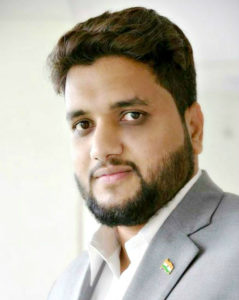 I am Jawwad Patel (Full Name: Jawwad Khizar Patel) a 24-year old Social Innovator and Research Scientist, I was recently honoured with the National Youth Award for Excellence in Research and Innovation by the Government of India. I have develop Asia's first 3-D printed smart self-filling water apparatus (Dewdrop) and many other Research and Development Projects. I was featured as a speaker at the TEDx event held in Hyderabad in 2017. I have graduated with a B-Tech in Electronics and Communication Engineering from Jawaharlal Nehru Technological University in Hyderabad, India.
Tools and Technology over Toys – Geek since early years!
I was an electronic geek since my early childhood. I started working on electronics when I was as young as 10 years of age, a child that preferred tools and technology rather than toys unlike other children of my age. Later on, in school and college life, I continued working on what I loved the most and still does- inventions and innovations and won many competitions in electronics and robotics field. I holds patents in the fields of Electronics and published many National and International research papers and journals.
Innovator & Inventor at any day and time- JP Lab
While still a young lad, I founded my own private home lab- JP Lab, which allows me to pursue my passion and dream of exploring new ideas and concepts at any time of the day, at any given time as my mind keeps connecting with the world around him, to identify ways to make lives of our countrymen better through my social innovations and inventions.
By the people, For the People
I have been working on research and innovation since very early years and recently I have developed a special virtual portal where people can share their problems and challenges in their daily routine and life and for the concerned educated citizens in particular who share their perspective of the problems with me. then I works and tries to identify, research and create solutions using science and technology in order to address their problems and challenges.
Empathy towards People
The innovations made by me so far have all been in the public domain. All the devices invented by me are made with the sole intention of benefiting the general public at large. Looking at the social crisis in various parts of our country, India, I realized the need for Affordable and Accessible Solutions and felt that revolution was required. Hence, my inventions so far, i.e. Dewdrop, Epidermus, Smart Helmet, Agritech, Solar car, IoT, Non-Invasive Glucose-meter etc. are all serving the purpose of creating a positive social impact in both the urban and rural society and changing lives.
Four Domains and many more in Progress
Water, Agriculture, Energy and Health are the focal areas of my work and impact, wherein I works very hard to ensure that the social innovations benefit all classes of the society, In the public interest and without any intentions of deriving sole monetary benefits. My only intention has always been to provide help to the unprivileged and make their lives better and the world a better place.
Sustainable Development Goals- Vision 2030
I have aligned my work and impact with the following 9 Sustainable Development Goals (SDG's) by the United Nations Development Programme (UNDP).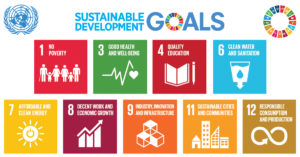 Vision: Working to serve the nation
I always strives to work for the people of my nation, India and for its progress in the field of Science and Technology, where I continues to innovate and invent according to the problems and situations that the rural and urban people face in their daily lives. I am working to make the youth aware of various innovative possibilities, especially the rural population about technology and the vast fields they can contribute to, in order to contribute to the nation's growth and progress.
Mission: Help youth to be great to make India great
I wants to follow in the footsteps of my role model and become a major part of shaping the young minds and ensuring a better future of our country like Dr.A.P.J Abdul Kalam did, whose efforts and impact are so evident till today. The 'Make in India' was a great mission by our hon'ble prime minister of India, Shri Narendra Modi Ji to encourage the people to develop our India and put our intelligence and efforts into the right direction. Furthermore, I will continue to strive and help people move in the direction of a great present and future for themselves which in turn will lead to better India. My only mission is Digital India and I promises to provide whatever it takes to achieve it.